We're going back to back, and back to black, as we celebrate our second annual FUN-O-WEEN Bar Crawl. Join us on Saturday, October 28 from  2 p.m. – 10 p.m. as we hop, skip, jump, and crawl to some of the dopest black owned bars and restaurants in Brooklyn. We're hitting some of the borough's most thorough neighborhoods including Bed Stuy, Crown Heights, Park Slope, and Prospect Heights.
We'll be on a quest to quench our thirst, and get in the Halloween spirit with our own FUN twist. Last year, we asked you to put on your capes or craft your evil plan to show us your superhero vs. villain prowess. This year, we're asking you to adopt a rap persona and come through reppin' for new school and old school hip-hop. Whether you wanna be Flavor Flav with the big clock, Left Eye with the war paint, or the Brooklyn Don, Notorious B.I.G., we welcome you all to the Rappers Bar Crawl.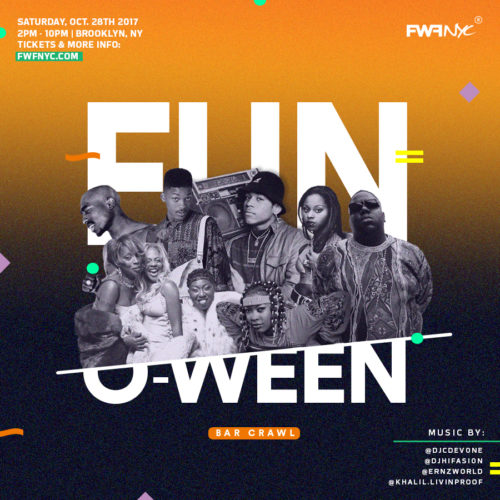 Dive into your creativity and show us who you'd be if you could rap and flow. Make sure you're paparazzi ready because we'll have a professional photographer snapping pics throughout the event.
The Crew will meet you all at the first stop on our tour, and we will mob out with our FRIENDS to all of the other spots. Get ready to spend 2 hours at each bar, as we enjoy discounted food and drinks, play games, earn FwF branded swag, and indulge in our own trick-or treats. We encourage that you arrive early, to ensure you get the best spot in the bar and to kick off the FUN on time. Please note that your ticket will cover admission, a FUN-O-WEEN cup to redeem drink discounts and free shots at participating bars.
As you tap into your rap alter ego, you'll also be tapping your feet to the sounds of some of NYC's most elite DJs, including @DjCDevone, @DJHiFashion, @ErnzWorld, & @Khalil.LivinProof. They will be posted at different bars and ready to provide a unique vibe and musical experience as you journey through Brooklyn.
We do ask that our FRIENDS support our participating bars, and spend. Plus, it's a little more FUN when you've had some rum! See, we're working on our bars already, we'll meet you at the bar all ready!
Remember 21+ event, Good vibes only, nothing spooky, it's just for FUN!